Uncategorized
Here is a look at the house, before the work started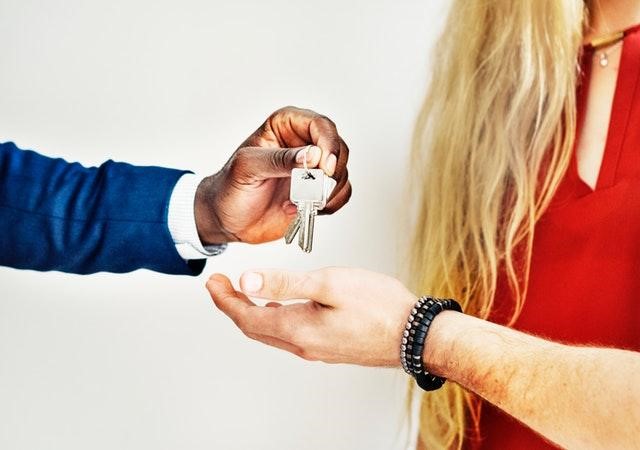 Photo courtesy of Pexels
Accessible housing is defined as a living space that has certain modifications which allow persons with disabilities to live independently. A recent study showed that there was a significant lack of accessible housing options for those who need it. As such, the Fair Housing Act requires people who are renting or selling homes to ensure their homes are accessible or allow renters to make reasonable modifications to the property. This article will explore some of the things house hunters should look out for when searching for an accessible home.
Know the Accessible Housing Requirements that Apply to You
According to the Americans with Disabilities Act (ADA), there are certain requirements a home must satisfy in order to be considered as being accessible. Some of these requirements are the appropriate measurements for ramps or slopes, the width of hallways and doorways as well as the accessibility of bathroom and bedroom spaces. While this checklist from 101com.com shows all the criteria, you will need to document which points are applicable to you. You can use this list as an aid when looking for properties that are of interest to you.
Locating Accessible Housing
Rentberry offers a helpful guide for persons who are looking for properties for sale or rent. The article details government housing programs and potential grants for which you may be eligible. Housing programs are generally aimed at persons who are seeking to rent or lease, but there may be exceptions based on your affordability. Grants are likely to be made payable to the organization through which you have secured housing. You may also research any state-specific resources that may be helpful; for example, the Los Angeles Housing and Community Investment Department has the Accessible Housing Program (ACHP), which is aimed at ensuring persons with physical disabilities have an equal opportunity to housing.
Finding the Right Home on the Market
If you decide to explore other options for finding a home, sites such as Barrier Free Home and Accessible Properties provide a database of accessible homes that may be helpful. These sites allow you to search for homes in your state that are in line with the needs of your particular disability. You may also consider working with a realtor who specializes in accessible housing as they are more likely to already understand your concerns and make accommodations for persons with disabilities. A realtor can also remove the awkward conversations that can occur when discussing disabilities and negotiate modifications on your behalf.
If you're a first-time homebuyer, you also need to take a few things into consideration. Redfin explains that in addition to finding a lender and getting the necessary paperwork together, you need to take a hard look at how much home you can realistically afford. This is especially true if you need to make any accessibility modification to the home now or down the line, as you don't want to stretch yourself beyond your financial means.
Making Modifications to a Home
While a landlord cannot refuse to allow modifications to their property, these are expected to be reasonable. As such, you may have limitations to what you can do. There may be some less-invasive and low-cost changes you can look into before tackling a remodel. If you want to purchase a home with the aim of making modifications, then the scope of what you may be taking on must be detailed. Expertise delves into the modifications a home may need to meet the needs of someone with disabilities as well as what the remodeling process would entail. It will be important to bear these things in mind when selecting a new home so you can choose the right home that can accommodate the changes that you need. While the cost of a remodel will vary, there are some options for funding a remodel for which you may be eligible. You should definitely check out these resources to see which one may be applicable to you.
Whether you decide to rent, lease, or buy, the most critical thing to bear in mind is that you are comfortable in the living space you have chosen. Don't be afraid to ask as many questions and take as long as you need to find the right place for you.
This article was written and submitted by our guest author Patrick Young
Ableusa.info | patrick@ableusa.info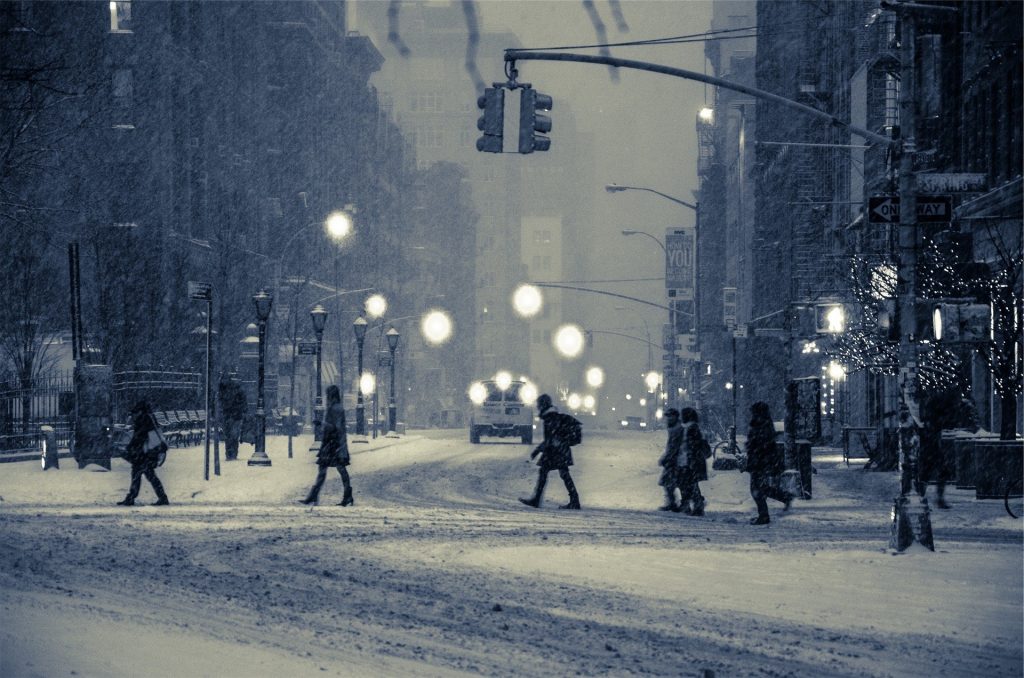 This article was written by our guest author Julian Lane, julian@thefixitchamp.com https://thefixitchamp.com/
Every year, millions of Americans are forced to contend with natural disasters. To keep your home and family safe from events that are ultimately out of your control, you need to be prepared for the worst-case scenarios. With that in mind, here are some steps you can take to ensure everything goes as well as possible during an emergency.
Create a Checklist
If you don't know where to begin the planning process, start by looking up federal emergency guidelines and creating a checklist. This should include both what you need to do to plan, but it should also contain a step-by-step outline of what to do when a natural disaster strikes. As a start, go through every type of emergency the Northeast is prone to experiencing, and then plan for each one. Once that's finished, you can organize emergency meeting spots for school, work, and outside the home. Similarly, create a contact list, and have your little ones memorize any emergency numbers that they might need. Storms are scary, especially to our children, so take some time to sit with them and offer a little reassurance.
How to Make an Emergency Kit
Now that you have your checklist, you should make an emergency kit and tailor it to the natural disasters you're most likely to encounter in the Northeast, such as ice storms and blizzards. You and your family will need first aid kits, batteries, blankets, warm clothes, hand-crank lights and radio, a portable cell phone charger, and at least three days' worth of canned food and bottled water. While you shouldn't try to use your car during an emergency, you should have an emergency kit in your vehicle in case you end up getting stuck while you're out.
Plan an Evacuation Route
Every single family member — including the little ones — must have your evacuation routes learned by heart. Unfortunately, that means memorizing multiple scenarios, such as one parent being at work or the children being at school or a friend's home. Given this possibility, you should also plan how you'll communicate should anyone become separated. While you might be hesitant, it may be wise to get even your littlest family member a smartphone with geolocation. By using smart devices, evacuation routes can be updated as needed, such as if you switch schools or your little ones make new friends.
Prepare for Blizzards
Preparing for a blizzard means having your family know your plan and keeping your emergency kits ready and stocked. In winter, always keep your gas tank full, as you cannot predict traffic patterns when a storm hits. A good way to involve the kids (and ease their fears) is to have them help with insulating the home for winter. Once that's done, have them pick out some games you can all play inside to keep their spirits lifted. Should you lose power or go through all your supplies, know where the nearest shelter is and how to get there. This can be a terrifying experience, but with the right prep, you and your family can stay safe.
Be Ready for a Hurricane
While it may not immediately come to mind when you think of disasters that affect you, it's best to have a hurricane plan ready. The winds alone in a hurricane can be devastating, and some have reached almost 200 miles per hour. As with a blizzard, you'll need a well-planned route for evacuation, as well as emergency cash to buy last-minute supplies and gas for your vehicle if necessary. After all, no one can predict what network may crash, preventing credit and debit cards from being used. If you are caught at home and cannot evacuate, stay away from windows, and turn your fridge down before you lose power to keep goods fresh for longer.
Natural disasters are a sad reality we face every year. That said, being ready with your emergency checklist and kits can help keep you and your family safe and sound during a natural disaster. This is not something to take lightly, so ensure even your children are prepared and understand what they need to do should a blizzard or other storm hit.
Image courtesy of Pixabay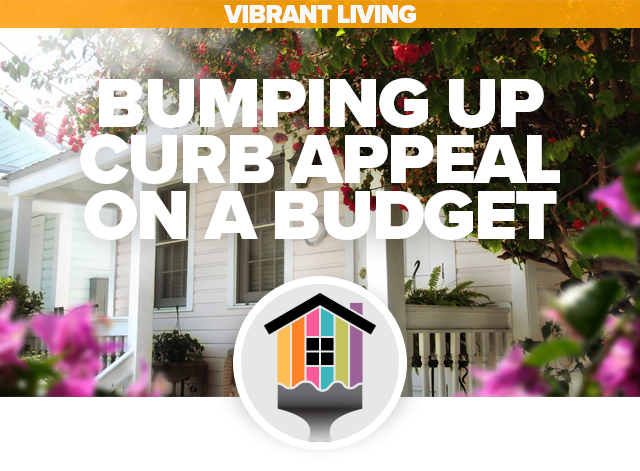 When it comes to selling your home, first impressions matter. The outside of your home should draw prospective buyers in and make them want to see more. If you're going to put your home on the market this spring, one of the first things you need to do is take a step back and turn a critical eye to the front of your home. Even if you're not contemplating a move, a beautiful façade will make your home a joy to, well, come home to.
In its 2018 Remodeling Impact Survey, 99% of members of the National Association of Realtors® (NAR) said that curb appeal is important when attracting homebuyers.1So you know you need to give the front of your home a freshen-up — but uh-oh, you're also trying to save money to move once your house is sold. Fear not! Many tasks that enhance curb appeal can be done for little or no cost. Here are a few budget-friendly ways to boost your home's looks.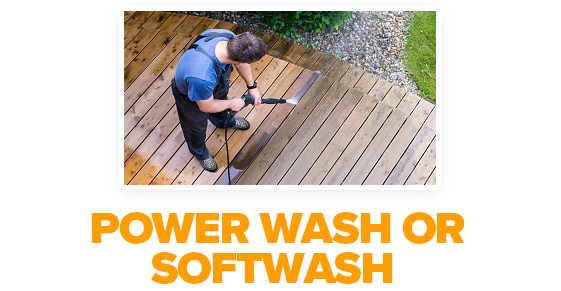 When prospective buyers pull up to the front of your home and take in their first view, they want to see a clean, pretty building that they can imagine as their own. Washing the front of your home and the walkway will refresh the façade, and may even make repainting the front unnecessary. Some Realtors will say it can add $10,000 to $15,000 to the sale price,2 and renting a power washer can cost less than $100 per day.

Concrete driveways can look refreshed after a power wash too!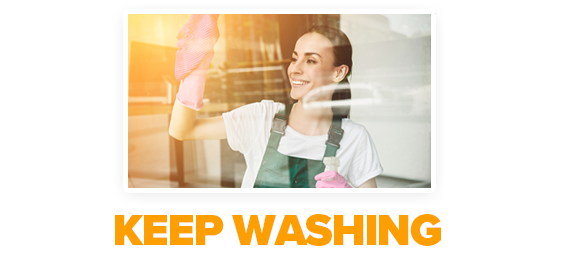 Your windows should sparkle. They should be so clean that you can't even tell there's glass in them! Be sure to clean them inside and out. While you're at it, giving your blinds and curtains a wash is a great idea too.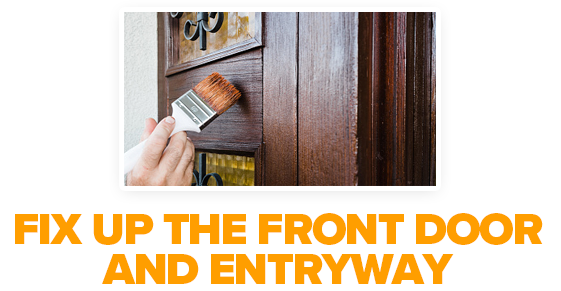 A freshly painted door in a bold color with shiny new hardware can make a bright change for less than $75. New house numbers in a modern style add appeal, and a new doormat can send a welcoming message to all who approach. Finish off the rehab with a stylish letterbox that just shouts Buy me!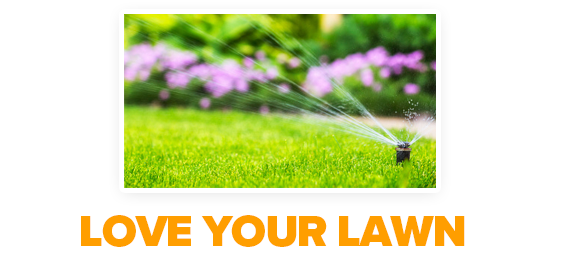 Your front yard should be green and neatly trimmed, with no bald patches or brown grass. Trees and shrubs should be pruned and shaped. Clean up your flower garden and put down some fresh, dark mulch for a rich-looking bed. No flowers? Fill large tubs halfway with pebbles or wood chips, add soil on top, and plant bunches of bright flora that will bloom for at least a month.

Turn on your sprinklers before viewings. The sparkle on your greenery and the fresh scent of water on plants will enhance your home's attractiveness.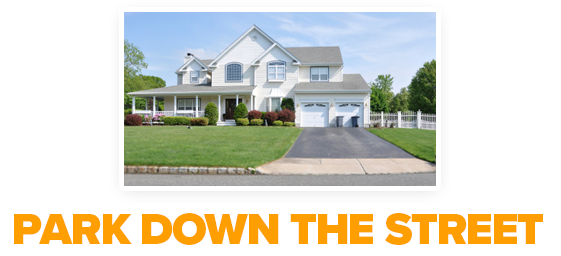 It's something you might not think about, but it's the least expensive job on this list: Ensuring convenient parking for real estate agents and their clients — and having open space in front of your home — can make your property seem more accessible and slightly bigger. Can't guarantee a front-row parking space in your neighborhood? At least be sure to remove toys, lawn tools, and any other unnecessary items from your front yard. A buyer needs to see your home with nothing blocking the view.


Once you have your home looking great from the street, the challenge is to keep it looking wonderful through all of the upcoming showings. Make a schedule to stay on top of mowing, weeding, watering, and other lawn and plant maintenance, plus keeping the driveway clean and the porch swept. And be sure to include pulling weeds from between stepping stones or bricks on your list. All of those little details mean a lot when it comes to curb appeal.

Are you looking to make a few bigger changes? Whether you're upping your curb appeal for your own pleasure or to put your home on the market this spring, I've got financing options that could help you get the ball rolling. Let's talk about making some beautiful updates! Sources:
[1] National Association of REALTORS®, 2018 Remodeling Impact Report: Outdoor Features.
[2] Houselogic, "8 Tips for Adding Curb Appeal and Value to Your Home."
Share this article:


Lindsay Barron
Loan Officer
NMLS 381413
Applied Mortgage
211 North Street
Northampton, MA 01060
413-586-5626
EMAIL ME
Visit my website




HarborOne Mortgage (NMLS ID: 2561) is Licensed by R.I. Licensed Lender, Licensed by the New Jersey Department of Banking and Insurance.

This email was sent by:
Lindsay Barron, NMLS 381413
Applied Mortgage NMLS ID 2561
211 North Street Northampton, MA 01060

If you would no longer like to receive emails from Applied Mortgage, you can unsubscribe by clicking here: Unsubscribe
Privacy Statement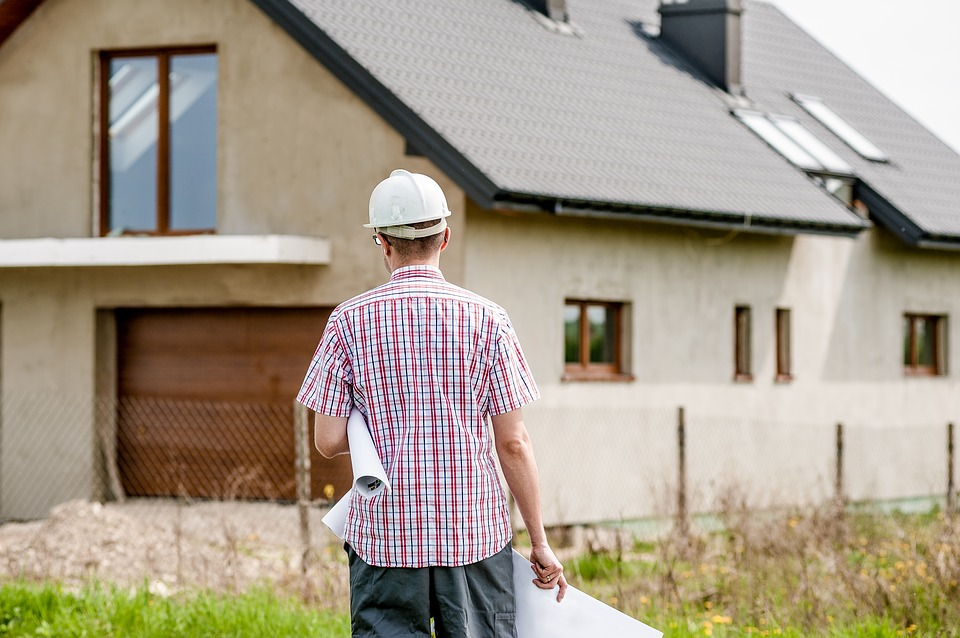 The Best Advice on How to Pay for Major Home Repairs
For most people, a house is one of their largest investments. Similarly, when that big investment is damaged or items wear out, repairs can be quite costly. Read on for practical advice on how to best cover those expenses and keep your home in prime condition.
Prepare a safety net
Your best strategy for covering unexpected home repair is to establish a savings fund, but how much should that be? The average cost of home repairs can vary greatly, depending on your project, where you live, and how much work you need completed. Replacing a few shingles obviously won't cost as much as a new roof, and contractors, supplies, and materials all weigh into what you'll pay. As a rule of thumb, HGTV recommends budgeting between 1 percent and 3 percent of your home's value for upkeep. In other words, if you purchase a home for $400,000, you should set aside at least $4,000 toward repairs.
As you set aside funds, don't forget to include some padding for any extra expenses that come along. For instance, with a kitchen remodel, you'll probably eat out for a while, or if you install new flooring, you might stay in a hotel for a couple nights. One popular added expense is self-storage, since many homeowners discover they need to move belongings out during major renovations. It's an opportunity to protect valuables from damage, and to get furniture and the like out from underfoot. As an example of cost, the best value on storage units is outside of Amherst in Wilbraham at Prime Storage on Boston Road, where you can rent a 10' x 10' unit for $99.00.
Finding good help
It's important to make sure you hire qualified help for home repairs. With that in mind, Nationwide suggests having a solid plan of what work you want completed before you start looking for contractors. It's also important to do research into potential candidates' credentials, verify their licensing, and request job site addresses so you can inspect how professional the crew seems. Interview contractors you're considering, and be aware of common scams. If someone tries to frighten you into snap decisions, won't put quotes in writing, or requests payment in advance, those are signs you should pass.
Becoming educated on what to look for in a scam artist is one side of the equation. For example, a common scam is storm chasing roofers who often go door-to-door following foul weather. They will tell you hail, wind, or branches have caused trouble, and have even been known to create damage when doing their "inspection" and then tell you it was from the storm. On the flip side of the equation, it's valuable to recognize the indicators you need a roof replacement. For instance, curling or missing shingles, broken flashing, or washed out shingle granules in your gutters are all indicators of wear. Most asphalt roofs last 12 to 15 years, so do some planning if yours is reaching the end of its lifespan.
Maintenance matters
Keeping up with routine maintenance is a key to avoiding costly home-related expenses. For instance, cleaning your refrigerator coils helps prolong the life of the appliance, draining sediment keeps your water heater functioning well, and changing air filters helps your HVAC system stay in good working order. To stay on track, Family Handyman offers a year-round checklist for routine tasks homeowners should tackle.
Alternative funding solutions
If a problem comes along before you're able to save funds, or if troubles come back to back, you might need to explore alternatives to cash savings. A home improvement loan is one possibility, or you might need to use credit cards, or get money from family members. Many homeowners save money by doing some work themselves, but if you go that route, make sure you avoid dangerous projects and know your limitations.
Upkeep and homeownership go hand in hand, but with some planning you can tackle expenses as they come your way. Set aside funds, hire appropriate help, and keep up routine care. Your home is a big investment, so protecting it makes good sense.
This article was written by a guest columnist:
Julian Lane
julian@thefixitchamp.com


I recently read through an article in Yahoo Finance, which was originally written by the Associate Press, entitled, "Why Americans waiting longer than ever to buy first homes". Of course the nerd in me thinks there should be an, "ARE" in the title somewhere so it reads either, "Why ARE Americans…" or "Why Americans ARE…". I, of all people, should not be commenting on people's grammar though, so I will focus on the content of the story itself.
Here is the article for your reading entertainment: Why americans waiting longer ever buy first homes
There are a couple items in the story to highlight that are interesting to me:
The typical first-timer now rents for six years before buying a home, up from 2.6 years in the early 1970s, according to a new analysis by the real estate data firm Zillow. The median first-time buyer is age 33 — in the upper range of the millennial generation, which roughly spans ages 18 to 34. A generation ago, the median first-timer was about three years younger.
The times have certainly changed since the 70's, I am wondering if this point was due to a gradual discrepancy over 40 years, or if this is closer to the technology metamorphosis that took place in the last 20 years.
There are certainly other elements that can play a role, for example mobility, and job stability. Some people know that they are going to live a longer life, so the 25-35 year old time frame is the opportunity to be flexible and try different areas of the country/world before settling down with a specific career and/or family development. This would lead to people making short term commitments to living arrangements without signing a 30 year note.
Jobs have also become more short term, and "freelance" style than ever before since we have found ways to streamline manufacturing, and have been able to automate so many tasks, while improving on communication and technology. The new normal for work includes flexibility, and opportunity to service from a remote locations. Because of the ability to provide a service from a remote location, this makes the job itself more competitive and drives down the cost of service, suppressing the income potential.  This point would indicate that average hourly earnings has not kept pace with cost of living in this competitive environment.
Though it might not appear so at face value you, but these can be good things since it is appropriate for people to explore themselves, by exploring the world. People should be mobile in their 20's and out of their comfort zone because that is where you learn the most about who you truly are.
And when young adults do sign the deed, their purchase price is now substantially more, relative to their income, than it was decades ago. First-time buyers are paying a median price of $140,238, nearly 2.6 times their income. In the early 1970s, the starter home was just 1.7 times income.
I believe that building permission and limitations have prevented ease of construction, limiting inventory while making it more expensive to build, especially with modern code. This would drive up costs due to of lack of inventory relative to demand, and building costs. Buildings are becoming more safer, and efficient than ever before because of new building requirements. For example, even though this point is before the 70's, between 1890 and 1920 they used to use what is called, "knob and tube" wiring for electricity. It turned out to be very unsafe, and was a fire hazard. Another thing that was cheap to make was lead paint. They outlawed that in 1978, so the price for paint increase because it was now made with much safer chemicals.
Another element that drives up the purchase price to income multiple may be that more people in the household are contributing to the cost of living than before. Some examples may include colleagues living together and splitting the ownership, or paying a cost of living to an individual owner, or even both spouses working full time. I have heard many stories of the stay-at-home mom, or part timer, up until the 80's and now it appears that both parents must work to support the family, and competitively cover the cost of living.
I tried my best to highlight some points, and add a perspective on some of the statistics mentioned in the story. I also didn't want to bore the reader because I might be able to write a short story or even a novel on this topic. It is a very intriguing time that we are living in, and envision looking back 20 years from now, and saying, "yes, I remember what the norm used to be, and it was much different than it is now. These are some of the contributing factors, and there were people going through the change that didn't even realize it."
My expectation for the next 20-40 years is that there will be more of a consolidation of housing, to protect land/agriculture, while trying to use space safely and efficiently. We can build up, and occupy space that once was air, and that will not impact our food production. If we build out however, we will mitigate the amount of fertile land that is available to grow food. I personally like living on my own plot of land, but these changes we are going through are bound to change the normal living style/standards. The value to undeveloped land will continue to increase, which will also mean that single family homes will also become more expensive. Rumor has it, they aren't making any more land…
Today, I have the honor of speaking at my former school Greenfield Community College, (GCC). I was invited to speak in front of an E-Commerce class, with the expectation of discussing driving traffic to a website. My former Professor, Kathy Vranos was the one who invited me in. As I reflect on my time spent at GCC, I can clearly remember the times I spent in her classroom. I was actually fortunate to have her for a professor in 4 different classes, and I was driven to learn, and exceed my limitations thanks to my relationship that I shared with her. I have to laugh, because no matter how long or short the classes were, she never had enough time to share what she knew because she had such a wealth of knowledge in every subject she taught. She was always willing to listen, and give me feedback whenever I had a question for her. I only hope when students take her classes that they realize what a talented and enlightening professor that they have at their fingertips in such a small community. Hind sight shows me that I was very fortunate to have her, and when she took the time to invite me back to speak in front of one of her classes there is no way that I would pass that opportunity to speak for her class. She has devoted so much time enriching my education, the least I can do is take a couple of hours out of my day to be there for her. I only hope that I can encourage her students to challenge themselves, and find out who they really are through the education that she provides.
Here are some before and after shots of the retaining wall that was long overdue to be rebuilt. I certainly enjoy this project but it is not easy to build a flat wall with round stones.
The before shots.
I thought this was a very interesting article. I have not had the opportunity to read any of his books but would be very interested in picking them up sometime. Here is a look at what I am talking about.
U Mass Graduate is financial wizard.
It is always refreshing to see someone from U Mass make national news. It is even more refreshing when they make it clear that they were involved in the Amherst area in some way, shape or form, (Zac is wearing a U Mass shirt on the cover of one of his books).
Paying for college has always been a challenge, and I wonder if his methods are really effective. They must be if he is able to get national recognition like this. Go U Mass.
What a week! Well the kids are back, the roads are finished, and now we wrap up summer and prepare for the fall. Fortunately we haven't had the cold nights yet, but they are around the corner. Work will be shifting from tenant search and placement to final mowing's and fall clean-up. This time of year is always fun and interesting because of the changes that we see all around us. Those of us in the North East are very lucky to experience the change of season. One of the things that I always tell people in my travels is that I love the changing of the seasons, because without the cold weather that we have here, we would not be able to appreciate the summer as much when it comes.
Autumn is a second spring when every leaf is a flower.  ~Albert Camus